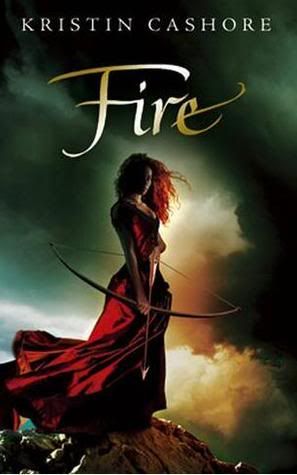 Beautiful creatures called monsters live in the Dells. Monsters have the shape of normal animals: mountain lions, dragonflies, horses, fish. But the hair or scales or feathers of monsters are gorgeously colored– fuchsia, turquoise, sparkly bronze, iridescent green– and their minds have the power to control the minds of humans.
Seventeen-year-old Fire is the last remaining human-shaped monster in the Dells. Gorgeously monstrous in body and mind but with a human appreciation of right and wrong, she is hated and mistrusted by just about everyone, and this book is her story.
Given that I was a huge and vocal fan of 'Graceling', Cashore's first novel in the Seven Kingdoms' Trilogy, I admittedly had high expectations for this continuation/prequel. Although there were definite crossover elements and characters that were enjoyable to locate and connect between the two narrative, 'Fire' is very much it's own story, with a strong emphasis on the various relationships that define people. This thematic element really helped to elevate the emotional component that so many readers felt was lacking in 'Graceling'.
Characters: although still an example of a 'strong, independent female', the character of Fire is much more emotionally available and openly vulnerable that Katsa in 'Graceling'. Fire is magnificent archer, a terrifying telepath and mental coercer, a young woman who calls (or attempts to call) the shots in her relationships with men – and yet she is someone wracked with scars, both physical and mental. That the reader gets to see how it is to be burdened with extreme physical beauty – a notion so rarely touched upon – was a very welcome change to the typical perceptions of deformity and alienation that dominate our cultural mindsets. Fire's relationships with men both define, restrict and empower her, and as such there are an array of interesting male characters to encounter in the novel – one of whom, perhaps the man with the strongest influence over her, is seen only via Fire's memories and the recollections of others. There is a slight but charged love triangle with the characters of Archer and Briggan fighting in very different ways for Fire's affections: these two men are polar opposites of one another, and yet it was refreshing to see that beneath the simmering, unvoiced enmity between them, there might have been some mutual understanding. Fire's relationship with both men was poignant and upsetting in it's own right, with Archer offering her a selfish, ignorant notion of freedom, and Briggan providing a sense of stability, self-acceptance and potential power. There are also some truly despicable, yet eerily human, villains featured in this novel, with the return of one familiar face in particular that truly sent chills up my spine.
Originality: the concept of the Graced was fascinating enough, but then to move into the Dells and discover this notion of Monsters, being advanced, wildly beautiful versions of animals and human beings, was additionally intriguing, especially in that it presented a wider commentary on what it means to be different and to be dismissed by society. Getting the chance to meet other nations of the Seven Kingdoms, and to encounter the politics within the Dells in particular, was also a fun experience, in that it opened up the discussion of prejudice and fear on a wider scale, and to see how this pertained to Fire' own personal struggles and family history was very emotionally engaging.
Plot: despite opening with a chilling prologue, the pacing towards the beginning of the novel was fairly slow and exposition-heavy, though it did help to establish the political context within the Dells, as well as some forays into the history of Fire's family and the evolution of the Dellian royal family. Once the central trio of characters began their trek into new lands however, the pace really picked up and there were more action sequences to encounter and more mysteries to examine. Certain plot points wrapped up a little too swiftly towards the book's conclusion, which was disappointing, but much of it was no doubt left open-ended to effectively lead in to the action of 'Graceling'.
Writing: although Cashore delivers exposition in a very engaging manner, and presents historical information in a dramatic way which always elicits emotional responses, it is her crafting of her protagonist's innermost thoughts that is most admirable. Fire seems fully fleshed-out from the very beginning in what she thinks and feels privately, which is of substantial relevance given that she is gifted with telepathy and the power to control the thoughts of others. Her struggles with identity and guilt are sometimes harrowing and difficult to endure alongside her, however it always makes for a very credible portrayal of human emotions – which, given her Monster status, is again an aspect of note. Fortunately, Cashore also handles dialogue quite well, with the exchanges between her characters not a frequent occurrence but always a dynamic inclusion, especially in how it depicted the differences between Briggan and Archer's love for Fire.
Renee's rating: It's safe to say that I am rather biased, because I seem to genuinely enjoy these Seven Kingdoms novels no matter what! For me, 'Fire' retained what I loved best about 'Graceling' but was certain to present a fresh, alternative spin on things, with some truly horrific and fascinating new concepts. As for her heroines, she may have her critics but I for one will always encourage Kristin Cashore to write more and more women like these, because they are welcome additions to my catalogue of favourite female characters!