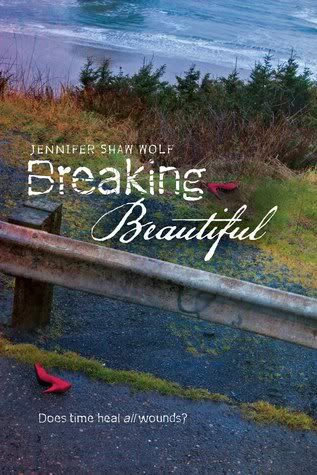 The idea for BREAKING BEAUTIFUL came when I was taking an on-line class, "Writing for Teens and Tweens" from Anne Gonzales. She gave us the writing prompt: 
Write a descriptive paragraph, using all of your senses, except your eyes:
I came up with this: 
A sob catches in my throat and wakes me from a dream I don't remember. I open my eyes to pitch black as the horror of the dream merges into the horror of reality. Even sleep won't provide an escape for me tonight. I slide from my bed and feel my way in the dark. I kneel down and dig through shoes, books, and fallen clothes piled in the bottom of my close until my fingers find smooth plastic. The bag holds a morbid object of remembrance, but maybe I can find some peace in it. I unearth it from the pile and sit back. The sound of the zipper is loud and jarring in the still of my room. My heart pounds as I reach inside. I wrap my hands wrap around soft cotton, slide it out and lay it across my lap, unfolding and stretching the fabric smooth so it covers my bare legs. I trace my fingertips from one corner to the other. Even in the dark I know every worn spot and every rip—badges of a struggle. I pause on the spot just bigger than my hand. Once wet and saturated, it has dried stiff and crusty. I reach down and gather it in my arms, pull it to my chest, and breathe in. I can still pick out his smell—sweat and cologne, mingled with dirt, grass, and the rusty, salty smell of blood.
It was supposed to be a piece from another story I was working on, but after I received some positive comments about the scene, I started to wonder where else I could take it. The idea percolated in my brain until I put down my work in progress and concentrated on the story that sprang from the prompt, about a girl who had lost someone she loved and was forced to hide a horrible secret. It was originally called TIGERSEYE, for the stone that Allie carries with her for courage.  I eventually dropped the scene from the story.
The story came to me fast. I wrote it in about ten weeks. It didn't feel like I could get it out fast enough. I took it to my critique group, made some revisions based on their feedback, and then I queried it. The whole time it felt different from any other story I had written, (it was my third complete manuscript). It felt, better, more ready.
It took a couple of months, but I ended up with offers from four agents. I chose Sara Megibow of Nelson Literary and she sold it to Walker Books for Young Readers.
There was a lot that changed from the original story with the help of my editor. As confident as I was that I had a good story, she made it so much better. I learned tons about pacing. I ended up changing one pretty big element at the end, which I was skeptical about, but now that it's written, I think she was right.
_______________________________
BREAKING BEAUTIFUL, coming out April 24, 2012