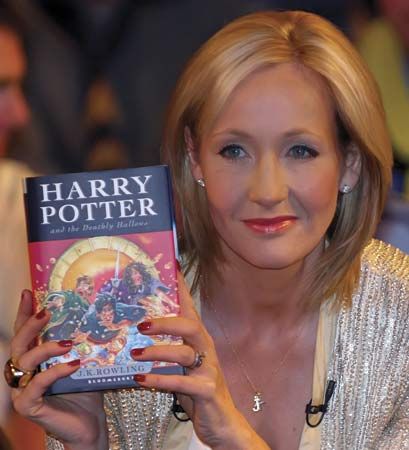 This monthly Top Ten List's will be our Top Ten Authors.
I think some authors deserve so much praise. They take us out of our world at times of need and take us some place exciting, comforting and on some pretty amazing adventures. They are the true heroes in my eyes.
So many to choose from but there's only room for ten and here's mine.
Who would be on your list?
1 – J. K. Rowling
There is no greater writer on earth than this legend of a woman if you ask me. I imagine she will be at the top of a lot of people's lists and so deservingly. Her imagination is next to none. The world in which she took us to was like no other and she will forever be in my heart. I cannot get enough of her work and I cant ever imagine any other author being as talented as her. 
2- Cassandra Clare
I absolutely love the world in which this wonderful lady has created. Her writing just flows so perfectly and there's never a  dull moment in any of her books. She has fast become one of my all time favourite authors.
3- Lewis Carroll
No matter how many interpretations of the wonderful Wonderland I see – I still love this man's story the best. I love the crazy nonsense that sprouts from the pages and the characters that are always in my head because quite simply they are fun to keep there. An amazingly talented author whose works I treasure.
4- Ellen Hopkins
I may have been late to the Ellen Hopkins bandwagon but when I finally got on I fell in love with the sincere honesty of her writing. She doesn't hold anything back and deals with a lot of issues in her books. Her writing style is one of which she tells her stories in verse which I find unusual and I completely adore it and her as a writer.
5- Stephanie Meyer
For a while I had stopped reading – well over a year – and I picked this one up (before the hype and the movies) and I instantly fell in love with this story. I quickly read my way through them and became a huge fan of the series and of Stephanie. She is a truley talented writer and her story still pulls me in any time I re-read it. It was this woman that brought me back to my love of reading and for that I will always love The Twilight Saga.
6- Phillip Pullman
How could this amazing writer not be on my top ten list. His books are simply outstanding. His imaginative skills are brilliant and after reading his novels – I longed and still do for my own Daemon. 
7- Veronica Roth
This brilliant writer got book of the year last year on Goodreads which is what prompted me to read her books and my o my no wonder she had book of the year!!! What a spectacular series and one I can't wait to finish. Her image of the future is a scary one but also one of the most original ones out there. 
8- Hannah Harrington
So a lot of people might not yet be aware of this awesome writer as she's fairly new but her first novel….WOW! As you can see from most of my list they are all paranormal writers of some sort but Hannah Is so far a contemporary writer. I'm not the biggest fan of contemporary but this novel had some pretty awesome playlists to go with it that made me instantly love this author and her work.
9- Suzanne Collins
Boy, can Suzanne Collins tell a really epic story. Her writing is just so catchy and fast paced that it has you gripped form the get go and now her work has made it to the big screen. Obviously not nearly as good as the books but a good effort. Great writer.
10- Rick Roirdan
Finally my number ten spot goes to the brilliant Rick Roirdan. From his Percy Jackson series and his writing in the The 39 Clues books – I fell in love with anything this man has wrote. His writing is guaranteed gold in my opionin and so far his epic adventures have not let me down.