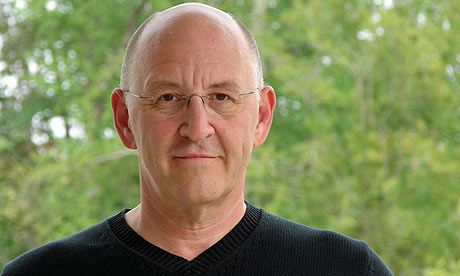 Hey everyone; Dusty here with my top ten favourite young adult authors. This list didn't take a lot of thought – I've had my front runners for years, in some cases four years, and so this was an extremely easy task; I love talking about my favourite authors!
After reading the lists of my fellow bloggers, there are a few familiar faces as well as a few new ones, some 2012 debutants and some seasoned young adult authors. I hope you like all of the faces I have picked out from my extensive library and that you tell me what authors are your favourites. So here we go I guess – hope that you enjoy.
(P.S – if I could put Daniel Marks on my list, I would. Sadly, I haven't read his novel, Velveteen, which I am madly excited about!)
1. Michael Grant
Literally my idol in the world of young adult literature, Grant is the author of the completely amazing Gone series and BZRK, as well as many others co-written with his wife, authoress K.A Applegate. Grant's writing is what hurtled me headfirst into the world of YA and I never miss a chance to pre-order his next book. (Why can't Light come sooner – and why does it have to be the final book in the series?!?!)
2. Dan Wells
A recent find, Dan Wells' debut novel, Partials, hit the shelves this February and I was hooked on it from start to finish. Not only are Wells' prose spot on, his world building is simply spectacular and the struggling society of Long Island in the wake of the purge of mankind was simply stunning to sink into. Thankfully, this gorgeous novel is followed by a sequel, Fragments in 2013.
3. Libba Bray
Never before have I laughed at a book as much as I did Beauty Queens. Coupled with fantastic reads Going Bovine and The Diviners Bray has more than earned her bronze medal spot on my list and whilst I'm yet to sample her Gemma Doyle trilogy, I'm sure it won't disappoint!
4. Cassandra Clare
I love Cassandra Clare's writing – her descriptions are simply amazing and her stories so impossibly addictive. With so many Shadowhunters novels left still to come, I know I'm going to be hooked on this lady's series' for years to come!
5. Ellen Hopkins
The only fault I could possibly pick out on Ellen Hopkins is that I know I have to have a funny book at the ready as soon as I've closed one of her thick volumes. Hopkins' books are painfully realistically and richly engaging – there's no going back when you pick up an Ellen Hopkins – you're hers for life!
6. John Green
My first experience of John Green was Paper Towns and from that I was sold for life. Green's novels are a fantastic combination of humour and intrigue, along with a mingled sense of tragedy to each one that makes these books irresistible!
7. Kody Keplinger
Another unstoppable contemporary author, Kody Keplinger has so far wowed the YA community with three fantastic novels, with a fourth coming out next year. Plus, a fun fact: she was just eighteen when her debut, The DUFF, was published!
8. Michael Thomas Ford
I picked up Ford's novel, Suicide Notes, and honestly it was a revelation. This stands tall in the top 5 of my 2012 reads and is sure to be a long time favourite for years to come. I couldn't put this book down and am itching to reread it!
9. Tabitha Suzuma
A dark and richly intense book Forbidden has earned Tabitha Suzuma a place on my list with honours. Her book both touched me and disturbed me with its compelling honesty and sinister flow. A triumph from start to finish, I have my eye on all future books from this woman!
10. Marissa Meyer
Cinder, Marissa Meyer's debut novel and the first in the Lunar Chronicles was an all over fantastic read that kept me turning pages for two days. I couldn't put this book and down and am delighted that there are three other instalments to the series! I just have on question – is it time for Scarlet yet?!?!