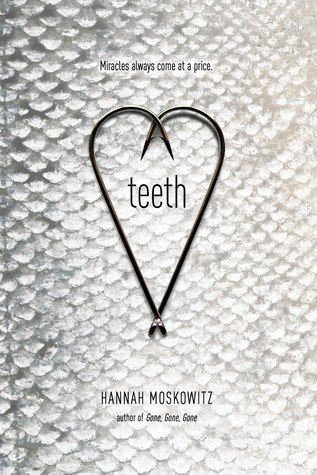 Hey all, David here for another Must Have Monday. There are so many upcoming books that I really want to read that it's hard to narrow it down to just one book each week. One of my most anticipated books however, is TEETH by the insanely talented Hannah Moskowitz. I am in love with Hannah's writing, so this is one I've had pre-ordered for months now. Here's a bit more about the book:
A gritty, romantic modern fairy tale from the author of Break and Gone, Gone, Gone.Be careful what you believe in.
Rudy's life is flipped upside-down when his family moves to a remote island in a last attempt to save his sick younger brother. With nothing to do but worry, Rudy sinks deeper and deeper into loneliness and lies awake at night listening to the screams of the ocean beneath his family's rickety house.
Then he meets Diana, who makes him wonder what he even knows about love, and Teeth, who makes him question what he knows about anything. Rudy can't remember the last time he felt so connected to someone, but being friends with Teeth is more than a little bit complicated. He soon learns that Teeth has terrible secrets. Violent secrets. Secrets that will force Rudy to choose between his own happiness and his brother's life.
Sounds awesome, right?
TEETH is due for release on January 1st 2013, so a bit of a wait for this one, but I can pretty much guarantee it will be worth it. In the meantime, I would most definitely recommend picking up Hannah's other books. For more information about Hannah and her amazing books, check out www.untilhannah.com. =)